Highlights of Castile & León
posted on 08/08/18
CTC client Peter Boughton travelled on our art & architecture trip to Castile & León in April 2018. Here is his account of some of the highlights of the Spanish region.
The first highpoint of the year was a tour of Medieval and Renaissance Castile and León led by Dr Richard Plant for the Cultural Travel Company. Our first stop was at Ávila – a splendid sight, encircled by the best-preserved medieval walls in Europe, punctuated with eighty-eight cylindrical towers.
Salamanca, built of pale golden stone, is probably Spain's most beautiful city, boasting an ancient university and a great Baroque plaza mayor (main square). The very large and fine Late Gothic Cathedral, crowned by a Baroque dome, is enriched with much carved decoration inside and out and a wealth of elaborate fittings. Combining Late Gothic with Renaissance features, San Esteban has a particularly fine cloister and a tall, elegant church focussed on José de Churriguera's superb Baroque retablo mayor (high altarpiece). The Baroque dome and towers of La Clerecía make a great contribution to the city's skyline, while its noble church contains many fine retablos.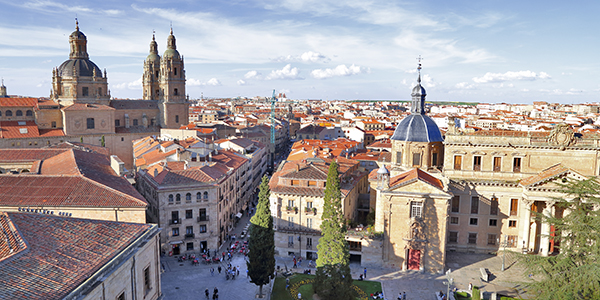 View from the tower of Salamanca Cathedral.
León Cathedral is in the French Rayonnant Gothic style, full of windows (including a glazed triforium) and richly furnished, most notably with a superb Renaissance trascoro (choir screen). The vaulting of its 16th-century cloisters has curvilinear Gothic ribs and gloriously rich Renaissance pendant bosses, with an equally elaborate stone staircase up to a huge museum. The 15th-century Cartuja (Carthusian monastery) de Miraflores near Burgos contains three supreme masterpieces by Gil de Siloé. The star-shaped alabaster tomb of King Juan II and Queen Isabel of Castile is probably the greatest Gothic tomb in the world, with many beautifully draped figures in a Late Gothic setting of extreme richness and complexity. The alabaster wall tomb of their son Prince Alfonso is gloriously rich but is surpassed by the huge retablo of gilded and painted wood: amazingly three-dimensional and superbly composed, this is probably the finest Gothic retablo in Spain.
The Gothic Burgos Cathedral is of astonishing scale, complexity and delight. Its wonderful exterior features twin openwork spires and two huge octagonal lanterns with a forest of pinnacles. The interior is equally rich and inventive, with an extraordinary wealth of chapels culminating in the Constable's Chapel by Simón de Colonia, emblazoned with huge heraldic sculptures and soaring to a star-shaped window in the centre of the vault.
The early 17th-century San Pedro at Lerma has huge Ionic columns supporting rich curvilinear vaulting, painted white with gilded bosses – a fascinating exemplar of Sir Ninian Comper's 20th-century theory of 'unity by inclusion'. Segovia is spectacularly sited on a river-girt rocky spur, with a huge Piranesian Roman aqueduct at one end and at the prow the fairy-tale castle of the Alcázar, its restored royal apartments a fine example of late 19th-century romantic nationalism. Segovia Cathedral is the last great Gothic church in Spain: its very fine interior has a tremendous sense of height and its cloisters are graced with particularly beautiful tracery.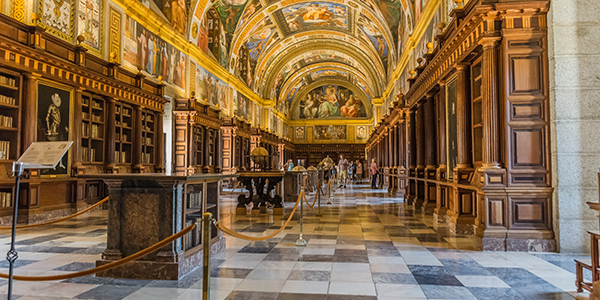 The library at El Escorial.
El Escorial, built 1563-84 for King Felipe II, is a colossal complex encompassing a basilica, mausoleum, monastery, palace, school, seminary and library. Designed by Juan Bautista de Toledo and Juan de Herrera, the grey granite structure is dominated by a huge dome. The basilica is of immense grandeur, focussed on Spain's greatest Classical retablo mayor, with four tiers of red marble columns, paintings and gilt-bronze sculptures. Directly beneath the high altar is the pantheon of the kings, a magnificent domed Baroque octagon of red and green marble and gilt bronze. It made the grandest of finales to a magnificent holiday.
By Peter Boughton, FSA.
---
Our Castile & León: Art & Architecture trip, runs again in April 2019 and is led by Dr Richard Plant – click here for more information
View itinerary for Castile & León: Art & Architecture
View all art & architecture trips