Cézanne Portraits exhibition to open at London's National Portrait Gallery
posted on 10/08/17
A major exhibition of over 50 portraits by the great French Post-Impressionist Paul Cézanne (1839–1906) is to run at the National Portrait Gallery from this autumn (26 October 2017–11 February 2018).
Cézanne Portraits will explore the special pictorial and thematic characteristics of Cézanne's portraiture, including his creation of complementary pairs and multiple versions of the same subject. The chronological development of Cézanne's portraiture will be considered, with an examination of the changes that occurred with respect to his style and method, and his understanding of resemblance and identity. The exhibition will also discuss the extent to which particular sitters inflected the characteristics and development of his practice.
Picasso and Matisse both referred to Cézanne as 'the father of us all', and indeed many critics point to him as a bridge between the Impressionism of many of his contemporaries, and Cubism, which emerged in the early 20th century, shortly after he died.
Over the course of a career spanning more than forty years, Cézanne proved himself equally consummate at painting portraits, still lifes and landscapes. It was during his years spent in Paris during his 20s that he developed the technique (inspired by Courbet) of painting with a palette knife, which allowed him to lay down strikingly dark 'slabs' of colour. Portraits of his uncle Dominique from this period painted in this style will be among many highlights in the Portraits exhibition.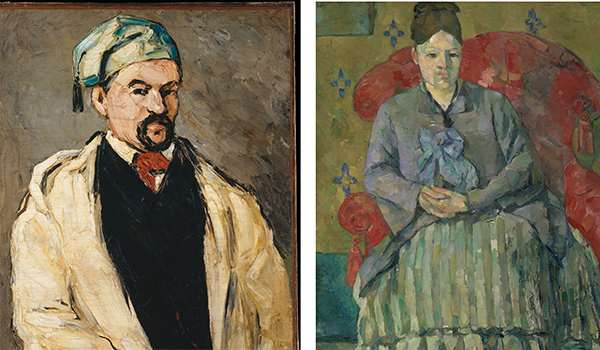 Under the guidance of Camille Pissarro in Pontoise, Cézanne began to move towards a more colourful palette. As is evident in this depiction of Jas de Bouffon, on the outskirts of his father's estate in Aix-en-Provence, his paintings from this period show a greater Impressionist influence, especially in the heavily distorted way that he paints the reflection in the water of the pool.
However, during the 1880s Cézanne gradually lost interest with the Impressionist focus on reproducing momentary observations, and developed what is often considered a more 'geometric' style, using standardized brushstrokes that form units in the structure of his works. This is epitomised by his series of paintings of Montagne Saint-Victoire, a mountain that overlooks Aix-en-Provence.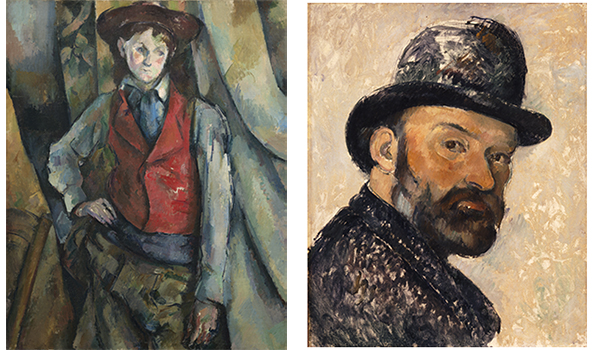 During his final years, the old painter often depicted common people, such as his studio assistant and gardener Vallier, but in the profile posture typical of classic Renaissance portraiture. Several of these later works, some painted shortly before the artist's death, will be featured in the Cézanne Portraits exhibition, which promises to be a fascinating retrospective on his career.
Cezanne Portraits runs from 26 October 2017 until 11 February 2018 at the National Portrait Gallery, London.
Read more about Cézanne Portraits
View all Art & Architecture trips
Image credits
1) Uncle Dominique in Smock and Blue Cap, 1866–7 Metropolitan Museum of Art, Wolfe Fund, 1951; acquired from Museum of Modern Art, Lillie P. Bliss Collection.
2) Madame Cézanne in a Red Armchair, 1877 Museum of Fine Arts, Boston; Bequest of Robert Treat Paine, 2nd Photograph © 2017 Museum of Fine Arts, Boston.
3) Boy in a Red Waistcoat, 1888–90 National Gallery of Art, Washington, D.C.; Collection of Mr and Mrs Paul Mellon, in Honour of the 50th Anniversary of the National Gallery of Art.
4) Self-Portrait with Bowler Hat, 1885–6 Ny Carlsberg Glyptotek, Copenhagen Photograph: Ole Haupt.
Main image 1) Cézanne's Father, Reading L'Evénement, 1866 National Gallery of Art, Washington, D.C.; Collection of Mr and Mrs Paul Mellon.
Main image 2) Madame Cézanne in a Red Dress, 1888–90 Art Institute of Chicago; Wilson L. Mead Fund.