Dr Luca Leoncini on Sicily, island of surprises
posted on 24/01/19
Dr Luca Leoncini is the Director of Collections at the Palazzo Reale Museum in Genoa and author of numerous essays on Italian art, who has curated many international exhibitions and conferences. He is also one of the longest serving expert lecturers with our parent company, Martin Randall Travel.
We are delighted to have the benefit of his knowledge and company as the expert speaker on our Sicily: Conquests & Cultures – Melting pot of Mediterranean civilisations trip. In this post he shares more about himself and why he loves introducing people to the cultural delights of this fascinating island.

What attracted you to art history?
As a teenager I liked to draw and to paint, which made me think I wanted a creative career, as an architect or artist. But also, I read a lot and I got very fond of some artists. I found these studies very rewarding, so I went to university in my home city of Rome, then spent five years doing further research at the Warburg Institute in London, exploring the classical references that inform so many 15th century Italian paintings. From there I moved to Genoa to take up my current position.

Why do you enjoy accompanying The Cultural Travel Company trips?
I love going away with the groups – it's a magnificent opportunity to travel and spend time with people who are interested in the same things as myself. Not only do I get to enjoy beautiful works of art and share the stories that surround them, but it is wonderful to see the reactions on people's faces – I get a lot of pleasure from that.

How did you get to know Sicily?
Sicily has some wonderful 15th century churches, sculpture and paintings which I studied as part of my research. Also, the museum I work in is a baroque palace, so I've become very interested in 17th and 18th century art – and Sicily has very many fine examples of the baroque. What's more, Sicily was one of the first places I went with a tour group, so it's close to my heart for all these reasons.

What are the highlights of the trip for you?
Palermo is an amazing city that has many layers of history – Phoenician, Greek, Roman, Norman, with Spanish, French, Bourbon, Arab and North African influences. Today, parts of it are beautiful, but it's also crowded, busy and confusing. That is part of the attraction, it's not fake or manicured, but a real place with a complex character, full of charm with lots of surprising discoveries to be made.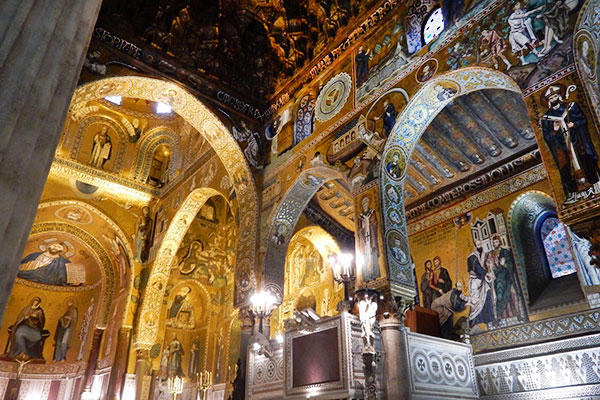 The Capella Palatina, royal chapel of the Norman kings of Sicily, commissioned by Roger II in 1132.

Wherever you go in Sicily you'll see the remains of many different civilisations, with amazing works of art, including glittering byzantine mosaics, extraordinarily beautiful Norman cathedrals, the extensive Greek ruins of the ancient city of Akragas (Agrigento) and the Cathedral in Ortygia, which is built around a still intact Greek temple from the 5th century BC.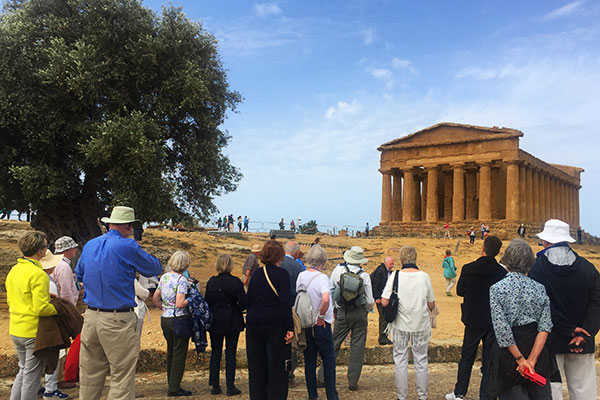 Ruins of the Ancient Greek city of Akragas, the Valley of the Temples, Agrigento.

The countryside is also a revelation, in many areas surprisingly green and fertile, with the eastern part dominated by the dramatic power of Mount Etna. The people are delightful, while the food and wine is another element that makes the trip enjoyable – the Arab and African influence is very strong and they use the spices that in the rest of Italy we don't use. And a very sunny climate, of course.
Even for Italians it's like visiting a foreign country – still Italian, but very different. A trip to Sicily is always full of discoveries and I see through the eyes and comments of travellers that they didn't expect what they actually found. Full of surprises, more to see and experience than they expected, more complex and more enjoyable!
---
View the full itinerary for Sicily: Conquests & Cultures (12–20 May 2019)
View all art & architecture trips
Sign up to receive our monthly e-newsletter
Top image: Palermo, mosaic in the Palatine Chapel.