Powerful, poignant and enduringly popular – the Oberammergau Passion Play
posted on 22/02/19
We've recently added a new trip to our repertoire – a trip to Oberammergau to see the world-famous Passion Play. In this article we give you an insight into the fascinating 385 year history of this remarkable theatrical and musical phenomenon.

How did Passion Plays originate?
A Passion Play is a religious drama of medieval origin that presents Christ's final days: his trial, suffering and death. It traditionally forms part of Lent and the Easter celebrations in Christian rituals. Such plays were widely performed across Europe but were especially popular in Bavaria and the Tyrol. They gradually became more elaborate with the inclusion of hymns, a wider cast of characters, much broader themes and more lavish productions. The Frankfort Passion Play, which dates from the 14th century, was such a major undertaking that it took two days to perform.

Hear our prayer
In 1633 the bubonic plague was ravaging Bavaria and the small village of Oberammergau vowed that that if God spared them from this scourge they would stage a Passion Play in thanksgiving. What's more, if he answered their prayers, they promised to perform it every ten years. In March 1633 twenty adults per thousand died but once the villagers made their vow the death rate subsided, with just one adult death in July 1633. The joyful people of Oberammergau performed their first Passion Play in 1634.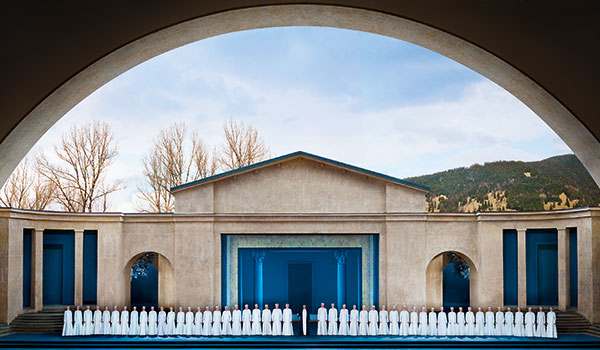 Der Chor ©Oberammergau Passion Play 2020.

Drama for the decades
The productions are staged repeatedly over the course of five months during every year ending in zero. 102 performances took place from 15 May until 3 October in 2010 and the next staging, the 42nd, is scheduled for 2020. Over 2,000 performers, musicians and stage technicians, all residents of the village, are involved.

We're going to need a bigger venue
The village church was too small so the play was performed outside, in front of the graves of the villagers who had died in the plague. The event swiftly became more popular with surrounding towns and villages. Records from 1674 show that seats were provided for the audience, with sets and stage mechanics subsequently added to the simple wooden stage structure. By the middle of the 18th century it outgrew the graveyard. A new venue was found on a nearby field, followed by the construction of a theatre in 1890. This has now been transformed and comfortably seats 4700 people.
We're very excited about taking our first group to experience this incredibly moving spectacle in 2020.
---
View the full itinerary for The Oberammergau Passion Play – The Passion in Germany (1–5 June & 15–19 June 2020)
Sign up to receive our monthly e-newsletter
Top image: Jesus before Pilate, Passion Play in Oberammergau, ©Arno Declair.