Tate to unveil 'Van Gogh and Britain' exhibition
posted on 22/02/18
Tate has announced its first exhibition of the works of Vincent van Gogh (1853–1890) for over seventy years, which will run from March 2019.
Entitled Van Gogh and Britain, the Tate Britain exhibition will examine the career of the Dutch Post-Impressionist through the lens of his relationship with Britain – in particular three key formative years (1873–76) spent in London. Upon his arrival in the capital as a trainee art dealer, Van Gogh developed a passion for British art and culture, especially the works of Shakespeare, Dickens and Rossetti and the paintings of John Constable and John Everett Millais.
With a focus on how these influences affected his art and life, Van Gogh and Britain will feature over 40 works from public and private collections around the world. They will include L'Arlésienne (1890) from Museu de Arte de São Paolo (featured in the cover image) Starry Night on the Rhône (1888) from the Musée d'Orsay, Paris, and the rarely loaned Sunflowers (1888) from the National Gallery, London. The first of these directly reflects the artist's strong affinity for English literature, including a copy of Dickens' A Christmas Carol in the foreground. Another exciting prospect is a piece that he painted while he was in an asylum towards the end of his life; Prisoners Exercising (1890), taken from a print of Newgate Prison.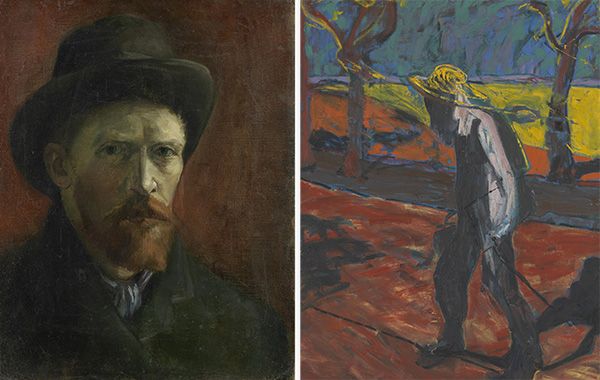 1) Vincent van Gogh (1853 – 1890), Self-portrait with Felt Hat (1887), Oil paint on canvas, 414 x 324 mm, Van Gogh Museum, Amsterdam (Vincent van Gogh Foundation).
2) Francis Bacon (1909 – 1992) Study for Portrait of Van Gogh IV (1957), Oil paint on canvas 1524 x 1168 mm, Tate © The Estate of Francis Bacon. All rights reserved. DACS, London.
The exhibition will also explore the influence Van Gogh exerted on subsequent generations of British artists. The show will conclude with a selection of paintings by British artist Francis Bacon (one of which is shown above) inspired by photographs of a self-portrait by Van Gogh that was destroyed in wartime bombing. Bacon described this piece as "haunting", and was moved by Van Gogh's position as a misunderstood artist and alienated outsider, which resonated deeply with the British artist.
Van Gogh and Britain opens on 27 March 2019 and will run to 11 August.

You can discover more about the tumultuous life of Vincent van Gogh and view many of his paintings on our art history trip: Flemish and Dutch Painting (31 May–5 June 2018), which visits the Van Gogh Museum in Amsterdam.
By Miles Rowland, Digital Marketing Assistant
View itinerary for Flemish & Dutch Painting
View all art and architecture trips